Sweet potato is a kind of crop that is relatively basic and delicious in the family diet. In addition to steaming, boiling, and roasting, the use of starch manufacturing machinery like the starch sieving machine to make sweet potato starch, sweet potato vermicelli, vermicelli, and flour has developed into a mature processing mode.
The in-depth development of the sweet potato deep processing industry chain has gradually become a key support project for the government's rural poverty alleviation policy. Farmers take advantage of resources and plant sweet potatoes on a large scale. Sweet potato starch processing companies concentrated on the acquisition of sweet potato deep processing by using the
potato powder making machine
. This has led to economic growth in many poverty-stricken areas, helping poor households to improve their economic conditions and achieve entrepreneurial income and wealth. Therefore, the Chinese government strongly supports and actively promotes the deep processing industry of agricultural and sideline products, encourages the development of sweet potato deep processing industry in various villages and towns, and realizes the one-stop processing industry model of sweet potato planting---starch processing---deep processing of sweet potato vermicelli noodles---sales.
In 2017, Shaanxi Sanyang County Government established a precision poverty alleviation project----automatic sweet potato starch processing and automatic noodle production. The project first promoted the development of the local sweet potato planting industry and supported the establishment of a sweet potato processing enterprise---Shanyang County Mengzhu Tianjian Potato Industry Co., Ltd.
All is ready except for the opportunity. The planting season has passed, and it takes a certain time for the sweet potato to mature. Therefore, it is imperative to purchase processing equipment that can meet the production needs. Through market research, the local government has set its sights on Nanyang Goodway Potato Machinery Equipment Co., Ltd.
In March 2017, secretary Zhu, the head of the village office project and the village director from Shanyang County, Shangluo, Shaanxi Province came to the production workshop of Goodway Potato Machinery in Nanyang Fangcheng for equipment inspection. Our company understands that they need equipment with a large production capacity. Small manufacturers with average qualifications cannot produce processing equipment of this scale. As a 27-year-old plant, Goodwin has a professional potato machinery manufacturer with extensive experience in machinery manufacturing, capable of producing equipment that meets the diverse needs of customers. The first time we met, the other party showed a strong cooperation intention. After initially determining the time for the second meeting, secretary Zhu and others returned to Shaanxi to carry out follow-up work.
In July 2017, Manager Sheng went to Shanyang County, Shangluo, Shaanxi Province, and met with secretary Zhu and director Guo to learn more about the progress of the local sweet potato planting industry. On August 23, 2017, the two parties signed a contract to purchase two large production lines of Goodway: automatic sweet potato starch equipment and automatic fan production line.
The automatic sweet potato starch processing equipment like starch drying machine with 5 tons of dry starch per day has been loaded and shipped to Shangluo, Shaanxi in October 2017, and the installation and commissioning is completed.
On May 9th, 2018, the second batch of equipment, the automatic fan production line with 1.5 tons of dry fans per day, was successfully loaded.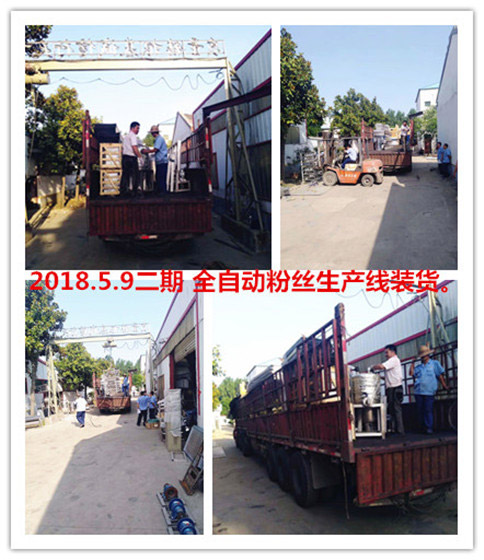 At present, both production lines have been installed and commissioned, and will be put into use after the first wave of sweet potato is harvested.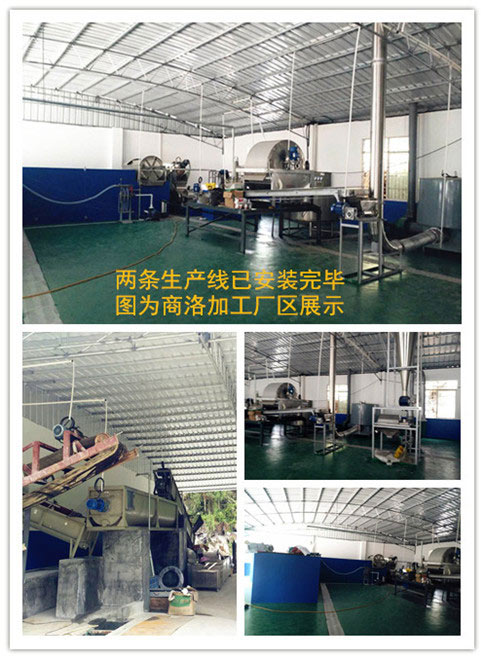 Goodway potato industry machinery star products are well received by the market. Many companies have selected automatic sweet potato starch production lines and fully automatic fan production lines, and have achieved substantial benefits. Choosing Goodway is to choose quality.