2018-04-27
On July 16, 2017, during the summer, Nanyang Goodway Machinery&Equipment Co., Ltd.'s loading masters swayed with sweat and put new equipment valued at more than US$200,000 into the packaging container, ready to be shipped to Another continent separated by mountains and seas - Africa.
This trip was first delivered to the Qingdao International Port and then to the port of Apapa, Nigeria. At present, Goodway's cassava  processing equipment has been successfully exported to more than 30 countries and regions around the world, watching the ships loaded with a total of two 40HQ containers with equipment gradually disappear in the port, we believe that this will continue to show from Henan, China Province of Nanyang City, Goodway Machinery's scientific and technological strength!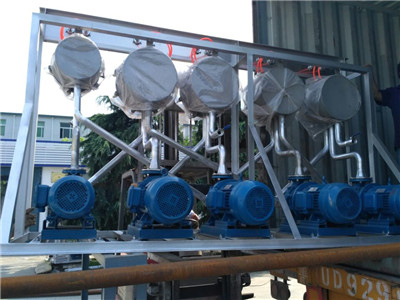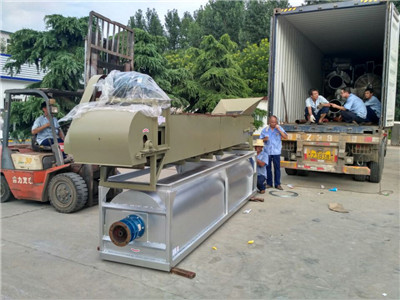 7.16 First batch shipment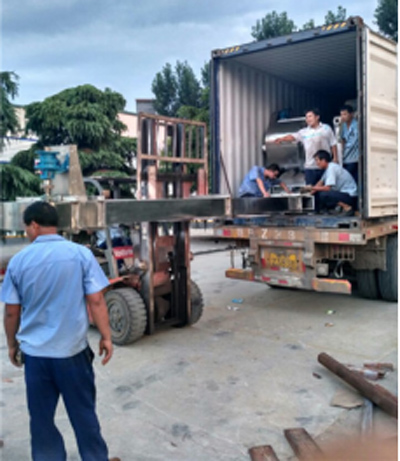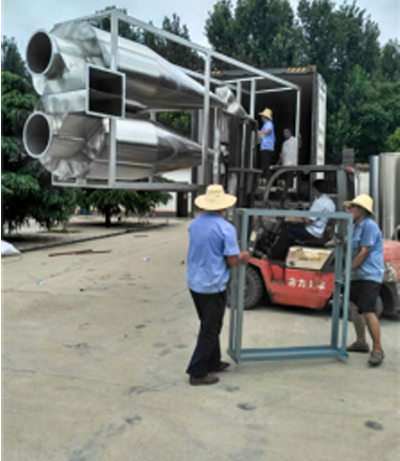 7.18 Second Batch Shipment


International friendship and cooperation China-Africa friendship lasts!
It is understood that this equipment purchase is operated by a branch of a major food processing group from Nigeria, which is mainly engaged in food processing and manufacturing. The procurement product line is a one-ton cassava starch processing line. The company made inquiries about related cassava mechanical products sent by Alibaba International Platform and noted that Goodway cassava machinery from Nanyang, Henan Province.
On July 17, 2016, Mr. Zhang, the business manager of the Foreign and International Department of Goodway, contacted him for the first time and left a deep impression on the other side, which laid a good foundation for future cooperation. During this period, based on geographical and language constraints, Mr. Zhang used a professional and responsible work attitude to communicate with the Nigerian side through e-mail and telephone and WhatsApp software.
In the process of communication, the person in charge of the Nigerian company said that prior to the determination of the partners, there were comparisons with equipment from several other domestic suppliers, among which there was no shortage of powerful starch manufacturing companies. After careful consideration, considering the advanced nature of the equipment, the scientific nature of the configuration, the rationality of the process, and the rigorous quality, we still choose and believe Goodway machinery and equipment!
On January 1, 2017, both parties agreed on the details and signed the contract! Prior to the payment of equipment deposits, the Nigerian side appointed Chinese partners as domestic representatives to visit Goodway and visited the company's large-scale equipment production and processing workshops, finished equipment workshops, foundry molding workshops, and process research laboratories. Finally, Goodway is still recognized for its advanced equipment, mature manufacturing experience, and overall strength!
On January 16, 2017, the Nigerian company paid for the equipment deposit, and Goodway seized the time to arrange production of machinery and equipment.
On July 17th and 2017th, Goodway will load equipment and deliver goods from Qingdao to Nigeria!
On December 17, 2017, Goodway dispatched two engineers to install and commission the equipment. The installation period is about 50 days.
On February 7, 2018, two Goodway engineers completed the installation and commissioning of the equipment and successfully returned to China!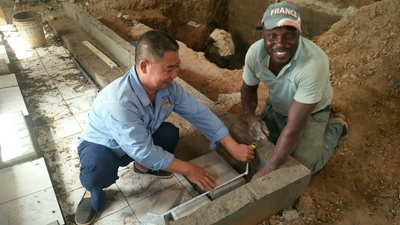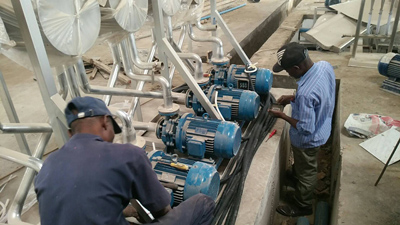 Goodway engineers are installing commissioning equipment
Professional cassava starch processing machinery I believe Goodway
In Nigeria, the instant noodles production line of the company requires the use of tapioca starch, which not only satisfies the production of its food starch raw materials but also produces starch that can be used in brewing. Double harvest!
The production line is mainly composed of one ton of cassava starch equipment, which is of high quality. In the disintegration and sieving section, Goodway industry's national patent – curved mesh crusher -- adopts a unique process of multi-stage crushing, multi-stage filtration, and multi-stage extrusion, followed by crushing and filtration. The cassava residue is silky and hairy, with low energy consumption, high starch extraction rate, and good starch quality, which improves the production efficiency of the production line and the extraction rate of starch.
The Goodway industry cassava starch production line adopts the wet processing technology of starch production without adding any additives. The entire process has the mature technology, advanced equipment, scientific configuration, and reasonable technology. In order to maximize the full use of raw materials for complete processing, in line with Africa's local production and processing requirements.
At present, the production line of this project is successfully put into production in Nigeria!