After nearly 30 years of research and development, and many trials, improvements and upgrades, Goodway Potato Industry has made the sweet potato starch processing equipment more perfect. The top technology and stable equipment performance and mature process standards have created the advanced nature of the modern
sweet potato starch processing equipment
production line.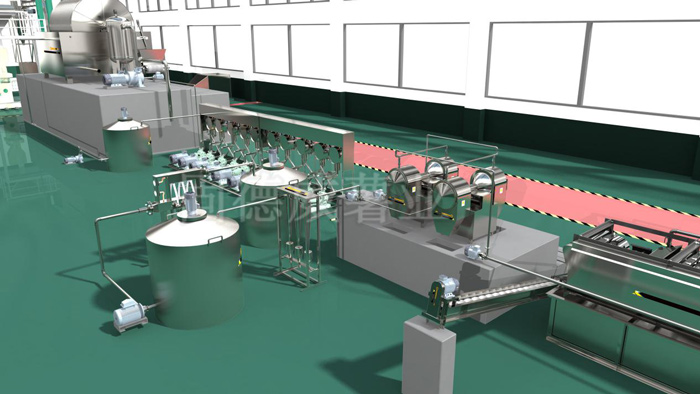 Advantages of sweet potato starch processing equipment
1. The equipment is customized as needed to maximize the maximum impact of the equipment.
According to the requirements of customers, the sweet
potato starch production equipment
can be combined with different mechanical equipment to increase the production capacity of the entire production line to the limit.
2. High degree of automation and convenient operation
From the start of raw materials into the production line to the finished product packaging, each link is fully automated by a CNC computer equipped with an intelligent control system. This makes the efficiency higher and the product quality better.
3. Modular design
The sweet potato starch production line can be freely added, removed, and replaced according to the company's conditions and raw materials.
4. Equipment is manufactured with high precision and high extraction rate
Based on the advantages of German equipment and combined with the six inventions, Goodway Potato has independently developed a unique process consisting of two-stage crushing, three-stage extrusion, four-level washing and five-stage filtration. A number of indicators have reached the international leading level, and the free starch extraction rate is as high as 98%.
5. Fine achievements in each process
①The raw materials are cleaned in multiple stages, and the raw materials are cleaner.
②Two-stage sorting pulverization makes the breaking rate high and the starch is free.
③Through the three processes of coarse filtration, fine filtration and microfiltration, impurities can be filtered.
④Remove mud after sand removal to ensure starch quality.
⑤The equipment has a special swirling structure, which can concentrate refined starch and improve the precision whiteness of starch.
⑥The equipment is dehydrated by vacuum washing and the water content is small.
⑦Drying is achieved by low-temperature and high-volume drying, and starch gelatinization is effectively avoided.
6. Water saving and energy saving reduce production cost
①Sorting pulverized raw materials can reduce energy consumption by more than 30%.
②Crushing and filtration integration reduces the energy loss during the conveying process.
③Countercurrent water. A powerful water circulation is carried out inside, which effectively saves 40% of water.
④Adopt pressureless percolation and extrusion filtration to further reduce energy consumption and reduce water consumption.
7. Less investment and higher cost performance
Matching equipment on demand to make investment better and lower investment threshold.
8. More than a thousand customer practice certification
With its excellent technical strength, excellent product quality and perfect sales network, Goodway Potato Industry sells well in many countries and regions around the world, providing advanced and stable equipment for thousands of customers.