In 2020, under the circumstance of the epidemic, industries such as processing and manufacturing, voyage transportation, and cross-border office work all over the world have suffered heavy losses and suspended overtime. Through online communication, Nanyang Goodway Machinery & Equipment Co., Ltd. delivered on time the 500kg/h cassava starch production line project for South America-Bolivia customers, and assisted customers to put into production smoothly and in time.
Nanyang Goodway is solely responsible for plant planning, drawing design, equipment manufacturing and delivery, remote installation guidance, equipment use and after-sales service. With timely communication and efficient solutions, Goodway has successfully completed a cassava deep processing project in Bolivia.
1. Entrepreneurial background of customer
Mr. Jorge has a large cassava planting base in Bolivia, and there are many small cassava growers in the surrounding area. He learned that cassava starch has a huge market demand and is widely used in papermaking, food, beverage, chemical and other industries, and the market is stable and has high added value. The client wants to increase income by processing cassava starch to drive the surrounding retail farmers to jointly develop cassava deep processing projects.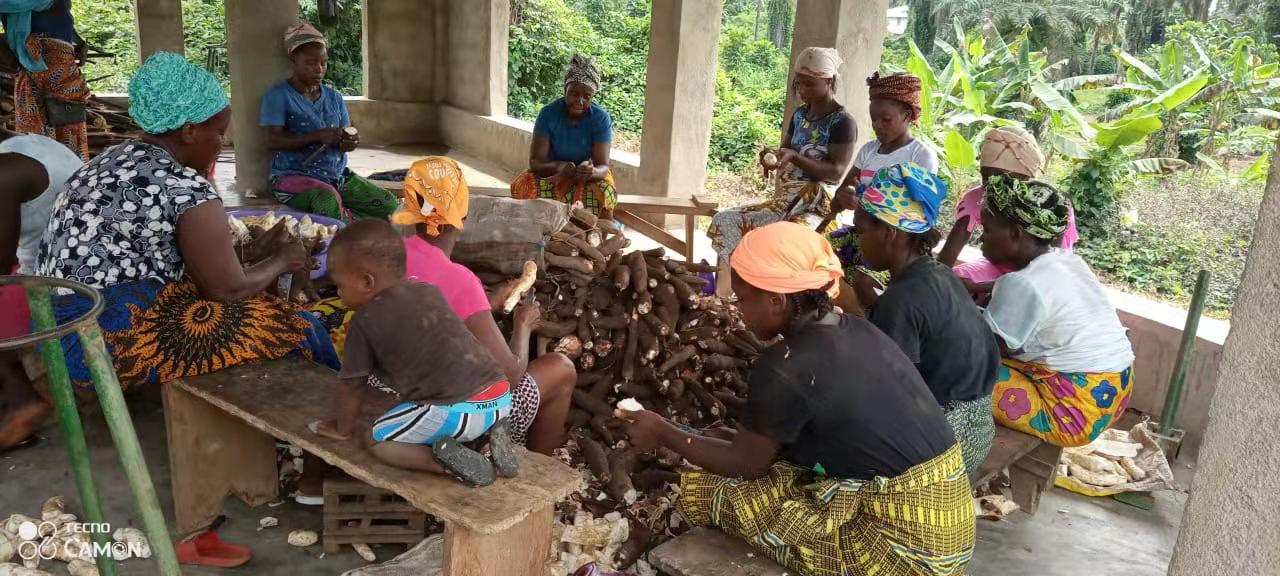 In 2020, Mr. Jorge decided to build a cassava starch processing plant. He searched Nanyang Goodway Machinery & Equipment Co., Ltd. via the website, and the inquiry information was sent to Goodway in Spanish on February 8. The sales manager used the translation software to introduce to Mr. Jorge the situation of our company and the comparison information of our cassava production line with other manufacturers in terms of equipment performance, specific energy consumption (water and electricity, etc.), floor space, equipment price, equipment durability and technological advancement, etc.
2. Project preparation stage
In the early communication, Mr. Jorge stated that he has a budget of 90,000 US dollars and needs to purchase a cassava starch production line with small investment and an hourly output of about 500 kg. Since the workshop is planned to be built near the local villages and the infrastructure such as water and electricity is limited, the customer clearly put forward the following requirements: energy saving, low power consumption, low maintenance costs, and convenient operation. Goodway's economical cassava starch production line is equipped with our self-developed energy-saving curved-net extrusion flour milling machines, which meet the requirements of customers in these aspects.
At that time, the international epidemic was in a severe period. In order to assist Mr. Jorge as much as possible to promote the cassava starch processing project and ensure that the customer's investment project is carried out as soon as possible, our company proactively provided the drawings for plant construction, production line layout and workshop infrastructure of the cassava starch processing project in order to enable customers to make preliminary preparations.

3. Determine the cooperation plan
Through a full understanding, Mr. Jorge realized that we are a professional manufacturer of cassava starch processing machinery, with our own factory and advanced cassava starch production technology, which is the partner he looks for.
Although under the epidemic, Mr. Jorge quickly made a choice. Only one month from the first contact, the day before the local bank suspended business to control the epidemic, he signed an equipment purchase contract for the 500 kg cassava starch production line project with our company and paid the deposit, confirming the cooperation.
4. The factory construction stage
According to the factory construction drawings designed and provided by Goodway's engineers, which included detailed equipment layout, water and electricity lines, piping design, etc., Mr. Jorge started the plant infrastructure work. During the equipment manufacturing, Mr. Jorge kept sending us the design drawings of our company, the construction of the factory and workshop conditions, and happily shared the progress of the project with us.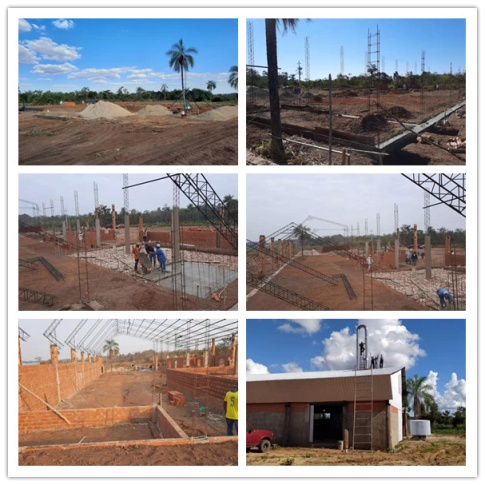 5. Equipment manufacturing and delivery
At the end of July 2020, after the video inspection, Mr. Jorge paid the final payment. Two 40-foot-tall containers were fully loaded and departed from Fangcheng in Nanyang, Henan Province, and were ready to travel across the ocean to Bolivia in South America. It is one of uncountable Goodway's overseas projects, but Goodway's expansion to Bolivia means that our equipment has been recognized by more customers, which means that our equipment has reached a new territory to play its value.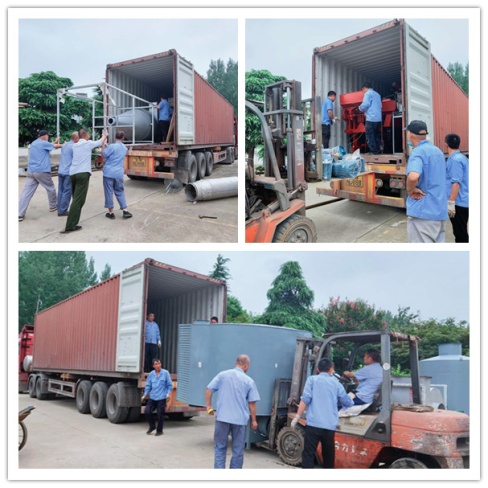 6. Equipment installation and commissioning stage
In mid-September 2020, the containers full of the customer's expectations arrived at the customer's construction site. Affected by the local epidemic, Mr. Jorge asked our company to provide instruction videos and installation manuals, and finally the equipment was successfully installed and ran successfully under the remote video guidance of our technical team. With the white starch produced from the packaging machine into the bag, it also means the successful commissioning of this starch project.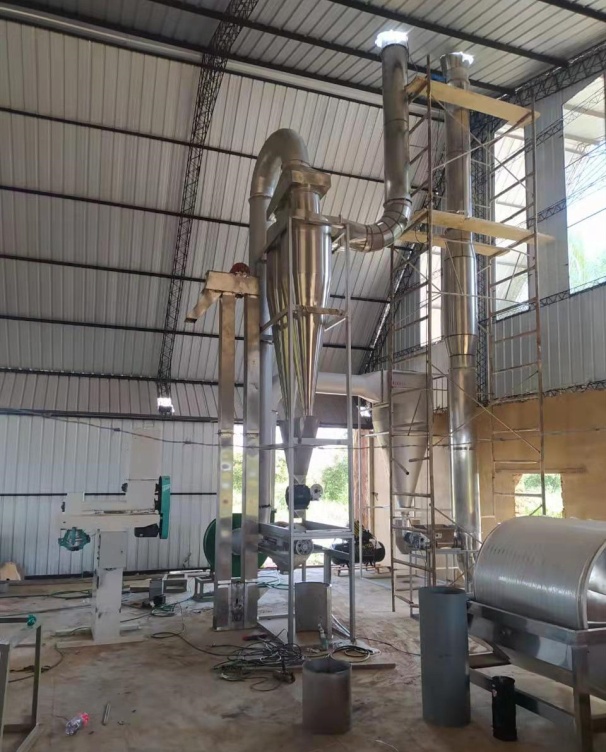 7. Trial operation stage of factory
At present, the small cassava starch processing plant of a customer in Bolivia has been successfully put into use. With customer's feedback, the performance of the equipment is stable. At the same time, the customer revealed that there are plans to install another production line in surrounding cities in the future.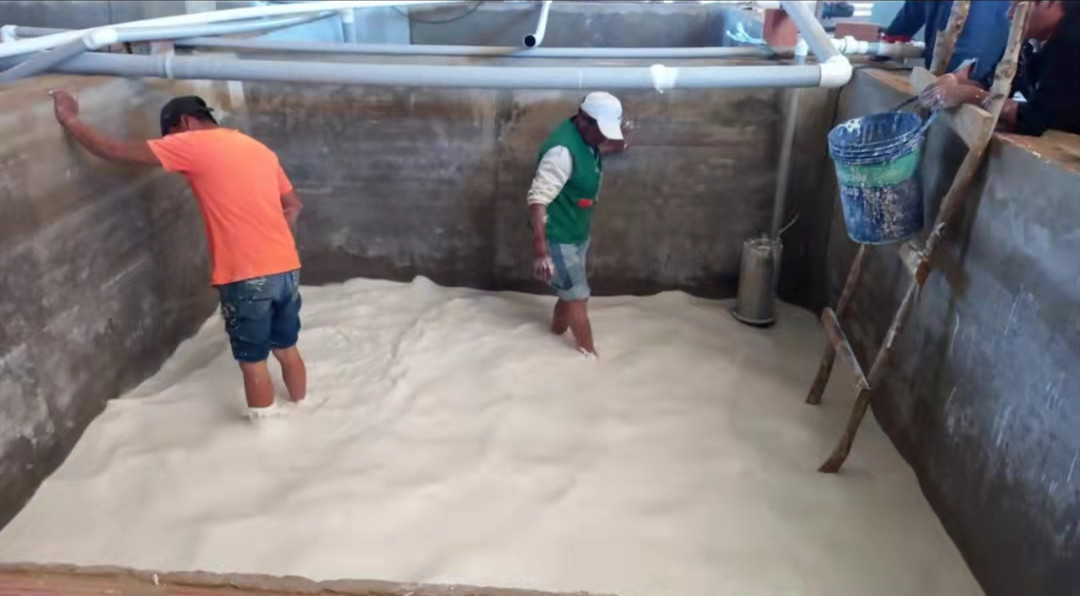 Nanyang Goodway Machinery & Equipment Co., Ltd. is an equipment manufacturer specializing in cassava starch processing projects. It insists on providing users with intimate and practical equipment purchase solutions, and tailoring a one-stop turnkey project for each user. If you have any needs, please feel free to contact us!