The autumn is getting closer and closer, and the season of sweet potato harvest is getting closer. Many sweet potato growers are buying their own sweet potato starch processing equipment. However, when you understand and search for the price of sweet potato starch machine through various channels, you can't get an accurate price range. When consulting many of the machinery manufacturers on the market, the price of the equipment obtained will also vary greatly. Therefore, many users have a doubt in their hearts. Why is the price difference of sweet potato starch machine so large? What factors determine the difference in equipment prices? The reasons for this are mainly reflected in the following two aspects: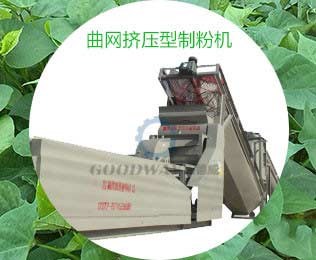 1. Differences in raw materials for equipment manufacturing
Sweet potato starch processing equipment is made from different raw materials. It is generally distinguished by level, such as carbon steel or stainless steel. The choice of ordinary materials or low-priced raw materials, and equipment manufacturing costs are reduced, then the equipment price is relatively low. The use of advanced or high-cost raw materials for the production of machinery and equipment, the price of equipment is naturally relatively high. This is the reason why the cost of manufacturing starch processing machinery is different due to the high price of the equipment.
2. The mechanical manufacturing process technology content is different
The design, manufacture and completion of sweet
potato starch processing
equipment is a time-consuming and laborious project. And often customize the equipment according to the actual processing needs of the user. Provide the right equipment according to the user's requirements. The type specifications, processing volume and performance characteristics of
sweet potato starch processing equipment
are different. The production capacity, processing efficiency and economic benefits are also different, which also affects the price of equipment.
Need to buy a large number of users of sweet potato starch processing equipment, it is recommended to choose a factory that has been established for a long time and has mechanical manufacturing strength and a comprehensive after-sales service system. Not only the quality of the equipment is guaranteed, but the price is also economical, and there are equipment models and reasonable equipment prices that can be freely selected by many users.