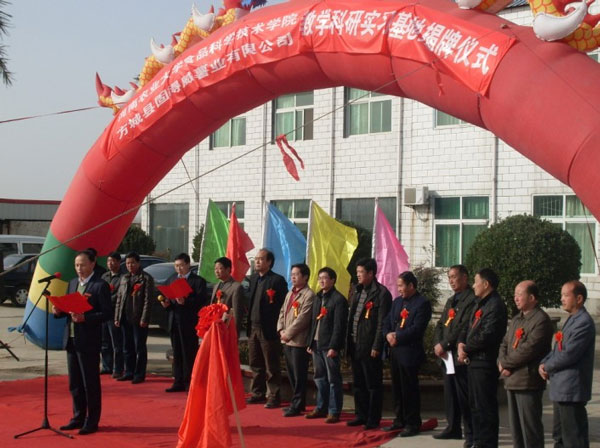 On December 8, 2010, the College of Food Science and Technology of Henan Agricultural University held the inauguration ceremony of the teaching and research practice based in Fangcheng County Nanyang Goodway Machinery Equipment Co., Ltd. Associate Dean of Henan Agricultural University Ai Zhilu, Director Zhang Jianwei, Dr. Xie Xinhua, and Deputy Chief of Liu Jie of Fangcheng County Government, Deputy County Magistrate Hu Yanmin, Deputy Director of County People's Congress Yang Linsheng and leaders of the county directly and Erlangmiao Township attended the meeting. In the unveiling ceremony, Chairman of the Board of Directors of Gu Dewei Potato Industry, Yang Shixin, Hu Yanmin, and Dean Ai Zhilu delivered speeches. Vice President Ai Zhilu and Deputy Director of Fangcheng County People's Congress Yang Linsheng jointly unveiled the base. After the ceremony, the two sides signed the Agreement on Co-construction of Teaching and Research Internship Bases.
Under the cordial care and support of leaders and friends at all levels, with the joint efforts of all employees, since its establishment in 1991, Goodway Cassava Potato Industry has adhered to the principle of scientific and technological innovation and has continued to forge ahead and has obtained national patents. In the same industry, the products took the lead in the promotion and appraisal of agricultural machinery by the Ministry of Agriculture and became the key agricultural product of the Ministry of Agriculture. The subsidy for agricultural machinery subsidies has initially formed 500 sets of annual processing of cassava/potato deep processing equipment, with an annual output of 3,000 tons of potato products. Production capacity, products sell well in all provinces and cities of the country and exported to Africa, Southeast Asia, CIS, and other international markets, the company's research and development of all-natural pollution-free sweet potato powder are more popular with consumers.
The signing of the contract with the College of Food Science and Technology of Henan Agricultural University is another breakthrough in the cooperation between Goodway Potato Industry and universities and research institutes. Through this cooperation, both parties are convinced that with the joint efforts of both parties and the support of the school and the government, the strong alliance and cooperation between the school and the enterprise will promote the common development of the school and enterprise and enhance the friendship between the two sides. Deepening the cooperation areas between the two sides will also further promote the development of China's potato deep processing industry.