Starch is an important industrial raw material. It has a wide range of uses. In addition to being used for food and processed food, it is more widely used in textile, papermaking, medicine, fermentation, casting, adhesive, chemical, machinery and drilling industries. , China annually produces more than 3 million tons of starch.
In the starch production process, the amount of wastewater discharged is very large. For every ton of starch produced, the amount of wastewater discharged is 10-20 cubic meters. Wastewater contains a large amount of residual starch, protein, organic acids, sugars, fats and other organic substances. It is a serious polluted wastewater in the food industry. While the output of starch continues to increase, the discharge of starch wastewater is also increasing day by day. Disposal and direct discharge into the water body will cause the water body to lack oxygen, suffocate aquatic animals, and cause great harm to the environment.
With the development of science and technology, corn, potato, sweet potato and tapioca starch wastewater treatment methods are many. In general, it can be divided into two categories: biological method and flocculation method.
1. Biological treatment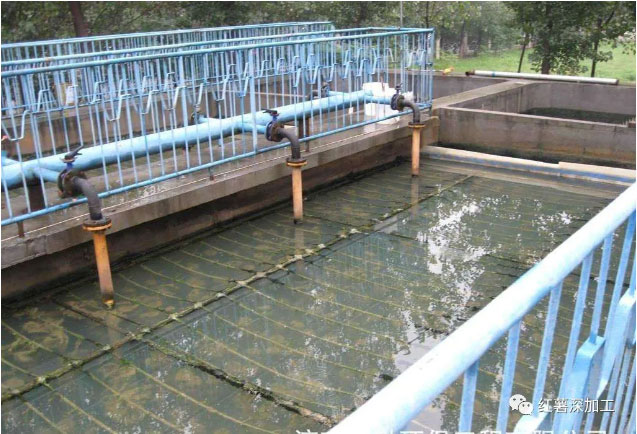 For the treatment of organic wastewater with high concentration produced by crop processing, most of them adopt biological treatment methods. Biological treatment methods generally include anaerobic, aerobic and anaerobic-aerobic combination.
After anaerobic treatment of starch wastewater, methane combustible gas can be obtained, and the residual sludge is rich in nitrogen and phosphorus substances. After further treatment, it can be returned to farmland as crop fertilizer. The anaerobic treatment method has low energy consumption, high resource recovery utilization rate, and relatively low cost, and is increasingly valued at home and abroad. The main treatment process includes anaerobic fluidized bed, anaerobic contact, upflow anaerobic sludge bed and anaerobic filter.
The main principle of aerobic treatment of starch wastewater is to use microbial proliferation and life metabolism processes to convert the organic matter in starch wastewater into inorganic matter. The process requires continuous supply of oxygen. The main processes of using aerobic method to treat starch wastewater include adsorption biological oxidation method, biofilm method and activated sludge treatment method.
The anaerobic-aerobic combined treatment method is mainly used for starch wastewater with high concentration, and uses a variety of different methods to combine. This process is more complicated, which is the combination of the advantages and disadvantages of various methods, and the processing effect is better.
2. Flocculation and precipitation method
The flocculation precipitation method is to remove the solid material in the dispersed state by a flocculant and form a coarse aggregate state separated from water. The type of flocculant determines the flocculation and settling effect. It includes three types, inorganic, organic, and microbial flocculants. Natural organic polymer flocculants are not very advantageous in terms of price. Generally, they are used by large enterprises, or wastewater with high difficulty in purification. For small enterprises, it will cause greater cost pressure.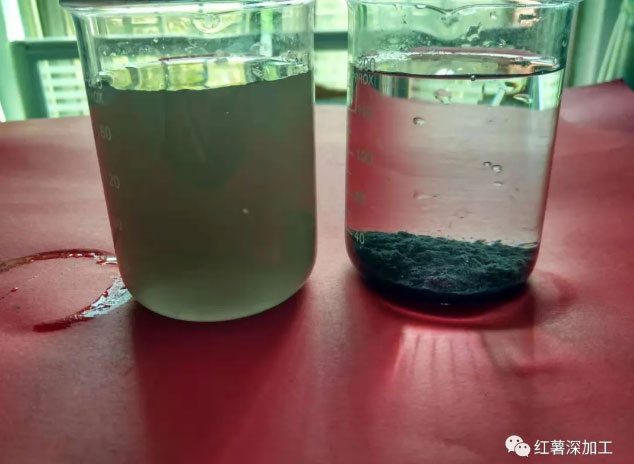 Microbial flocculant has good flocculation settling performance, non-toxic and will not cause secondary pollution. Microbial flocculant solves many problems of organic and inorganic flocculants, especially in environmental protection, has better performance, but the application in practice is not very common, because of the high cost and the scope of its own application is not wide . To further develop the role of such flocculants in wastewater purification, more in-depth research on its mechanism of action is needed.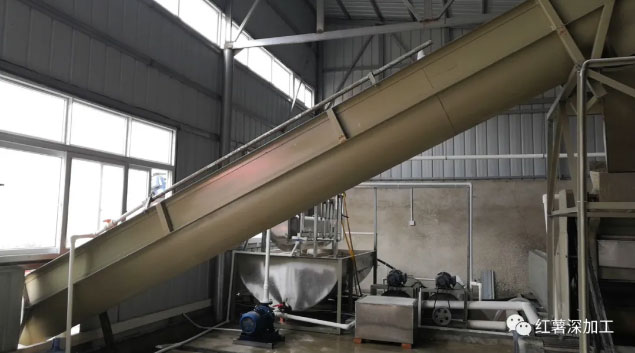 With the development of the times, environmental protection issues are becoming more and more important, and the wastewater treatment of starch processing has also become a pain point in the industry. How to reduce waste water and achieve discharge standards has become a concern for many starch processing enterprises. Some manufacturers of sweet potato starch processing equipment have also developed some energy-saving water-saving equipment, but the generation of wastewater is still unavoidable.