Processing Capacity: 100-500kgs/hour
Application Scope: Cassava slurry dewatering
Product Introduction: Hydraulic dewatering press, hydraulic press, cassava dewatering machine for cassava flour and Garri processing
Load the bags directly on to a hydraulic press. Under control of the hydraulic station and electric cabinet to lift and press the jack handle up and down until it becomes hard to move. Repeat the process several times each day until no more water comes out of the bag to produce a firm wet cake.
1. Vertical structure, cover a small area.
2. Open type press box design, convenient operation, around the box lined with corrosion resistant plastic or stainless steel orifice plate, pressure plate lining stainless steel, stainless steel tank and stainless steel tray installed on the bottom of the box.
3. Equipped with super trip protection, ensure user safety.
4. Press adopts hydraulic drive, automatic pressure maintaining, high efficiency.
5. All steel structure frame, high intensity, long service life.
Product Principle of Hydraulic Dewatering Press
By using the principle of hydraulic and self-weight, no filter chamber cavity will directly press and squeeze the water under putting the material into the filter bag to further reduce the moisture content.
Technical Parameters of Hydraulic Dewatering Press(single cylinder)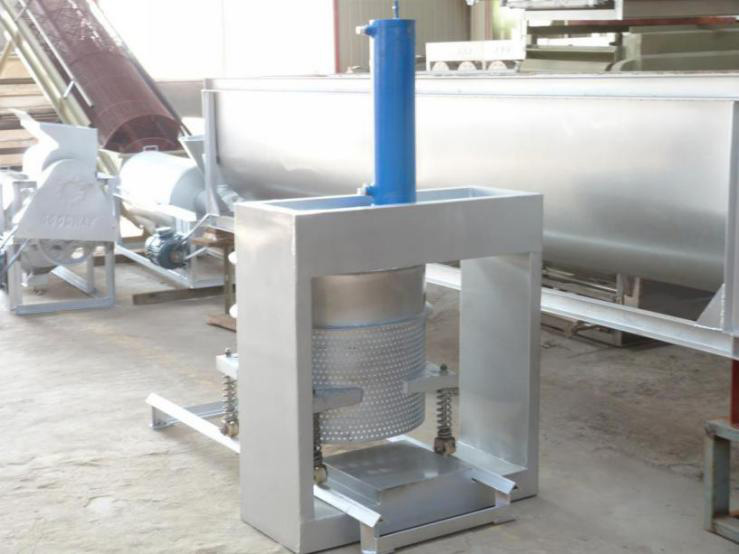 | | |
| --- | --- |
| Model no. | GD-SHP-400 |
| Machine material | Stainless steel |
| Capacity | 200-300kg/hour |
| Press frame volume | 400L |
| Voltage | 380V &50/60Hz 3Phase |
| Power | 1.5KW |
| Cylinder pressure | 20MPa/50t |
| Weight | 500KG |
| Interior casing dimension(L×W×H) | 1000×400×1200mm |
| Overall dimension(L×W×H) | 1250×700×1250mm |
Technical Parameters of Hydraulic Dewatering Press(double cylinder)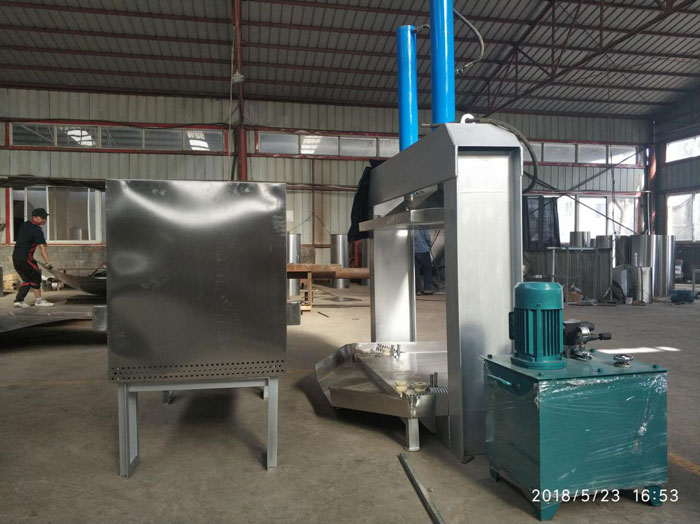 | | |
| --- | --- |
| Model no. | GD-DHP-600 |
| Machine material | Stainless steel |
| Capacity | 300-400kg/hour |
| Press frame volume | 600L |
| Voltage | 380V &50/60Hz 3Phase |
| Power | 1.5KW |
| Cylinder pressure | 20MPa/50t |
| Weight | 800KG |
| Interior casing dimension(L×W×H) | 1200×600×800mm |
| Overall dimension(L×W×H) | 1360×1600×1500mm |